It's not springtime without the annual Cassina Garden Club's annual Tabby and Tillandsia Garden Walk. Seven private gardens have been selected to feature the breathtaking, luscious varieties of native and transplanted flowers and vegetation across St. Simons Island.
In addition to the garden stops, the club will also open the Hamilton Plantation Tabby Slave Cabins at Gascoigne Bluff for a festive marketplace featuring local vendors and artisans, Cassina Garden Club's Plant Sale, and food trucks. Proceeds from this event help to maintain cabins and gardens on Gascoigne Bluff.
The annual self-guided tour will take place on April 27, from 10 a.m. to 4 p.m. Tickets are $30 in advance, $35 the day of the event. For more information, go to cassinagardenclub.org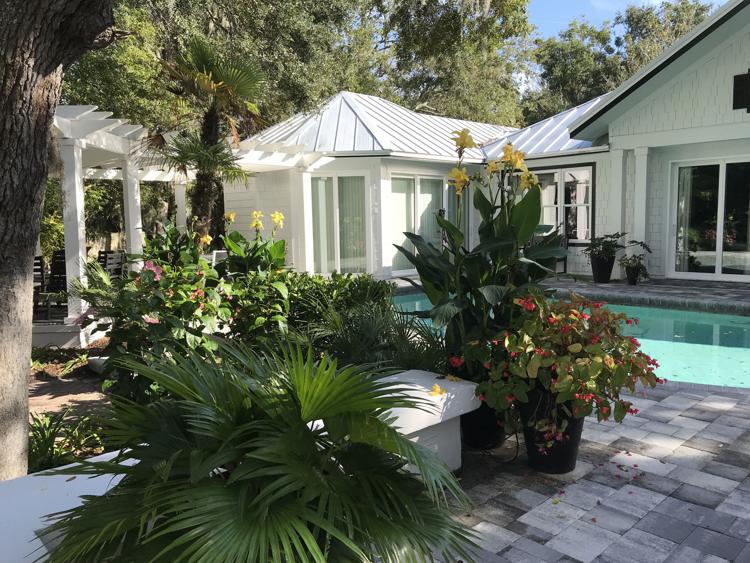 A Walk To Remember
Cottage on the Green
Native plantings of hydrangea, agapanthus, and olive trees complement pots overflowing with delightful plantings of seasonal color. The Mediterranean garden features citrus trees and an herb garden all within view from the back terrace.  Find the owners' children's garden and potting bench as you exit the property — a true gardener's delight.
The Family Affair
Enter a garden where kids never run out of things to discover! A play gym, a sandbox, and a pool are tucked into this beautiful garden with stunning views of the Retreat Club Golf Course. The generous terrace provides indoor-outdoor living for this busy young family, and this garden maximizes space and incorporates active areas for play, while creating gardens for reflection and relaxation.
The Aiken House
Built in 1925, this historic oceanfront home and guest house on the St. Simons Sound welcomes visitors into an elegant courtyard of ancient oaks and decades old camellias. Paths of established plantings and palms lead friends to the expansive veranda to enjoy the sprawling lawn and magnificent terra cotta pots of seasonal colors that have adorned the patio since its beginning nearly a century ago.
The Village Bungalow
Home of one of the island's tree spirits, this tranquil, compact garden captivates visitors with the attention to detail and charming utilization of space. Stroll through this property to find a plethora of whimsical birdhouses created by the homeowner; a potting shed that is both delightful and practical; and an abundant herb garden. A fun little note: This garden and home provided the backdrop to the film "Christmas on the Coast."
Curacao
Rescued from the wrecking ball in 2010, this enchanting property features a resort-style retreat that is both gracious and sophisticated. Thoughtfully designed, the garden incorporates an outdoor kitchen and screened lanai, surrounding a lush and inviting pool, resplendent with the soothing murmurs of rippling water. Visible from every room in the house and guest house, the walled design ensures a private oasis and provides a backdrop of seasonal color and iconic sounds of rustling palms, which envelop the property.
The Dream House
Situated under a canopy of live oaks, the 2017 HGTV Dream Home hosts an entertainer's dream garden. A meandering pathway leads guests from the welcoming and lushly landscaped front entrance to the lakefront lanai. A variety of hardscapes surround the inviting pool and provide for generous seating, whether relaxing by the pool, lake, or firepit. Complemented by colorful pots of blooming flora, the multiple levels of native plantings greet visitors and create outdoor rooms for a variety of uses: cooking, dining, or taking in the expansive lakeside views.
The Beach House
Located just steps from the beach, this oceanfront beach house showcases a garden nestled among the most challenging of Mother Nature's microclimates: salt air and scorching sun. An enjoyable and whimsical garden, the plantings present visitors who profess not to have a green thumb with numerous ideas of heat/drought tolerant plants.
Source:  Golden Isles:  The Magazine for Brunswick, St Simons Island. Jekyll, & Sea Island, By:  Debbie Williamson