Here in the Golden Isles, history lives in the centuries-old live oaks, colonial-era structures, rolling streams, and whispering marshlands. On St. Simons Island, the bounty of the sea has been mastered by many cultures — from the precolonial Mocama and Guale tribes to the Gullah-Geechee people, formed by the enslaved during the plantation era. And it is on this cultural foundation, at the water's edge of South Harrington Road, where the historically significant landmark, Village Creek Landing, continues the traditions established by previous inhabitants.
Village Creek Landing's legacy began, essentially, as the first bed and breakfast opened by the Sullivan family, a well-known Gullah-Geechee family of the Harrington community. Ben Sullivan and his wife, Carrie, would host guests overnight after a day of fishing and marsh-hen hunting for the men complete with a home-cooked meal of the day's catch. When Ben became disabled and later passed away in 1950, his son Cusie continued operating the camp and was known as one of the best fishing guides on the Georgia coast. Cusie's Fish Camp was born, and the traditions of fishing adventures and hospitality continued at the notable site that we now know as Village Creek Landing.
In recognition of the location's connection to fishing, the Gowen family, owners of Village Creek Landing, have partnered with On The Fly Outfitters' Jared DiVincent and Adam Hein for monthly "Fly Casting and Fly Tying at Village Creek Landing" events. Hosted in the evening on the second Tuesday of each month for the remainder of 2019, these events will feature casting demonstrations and clinics as well as fly tying lessons for guests of all ages.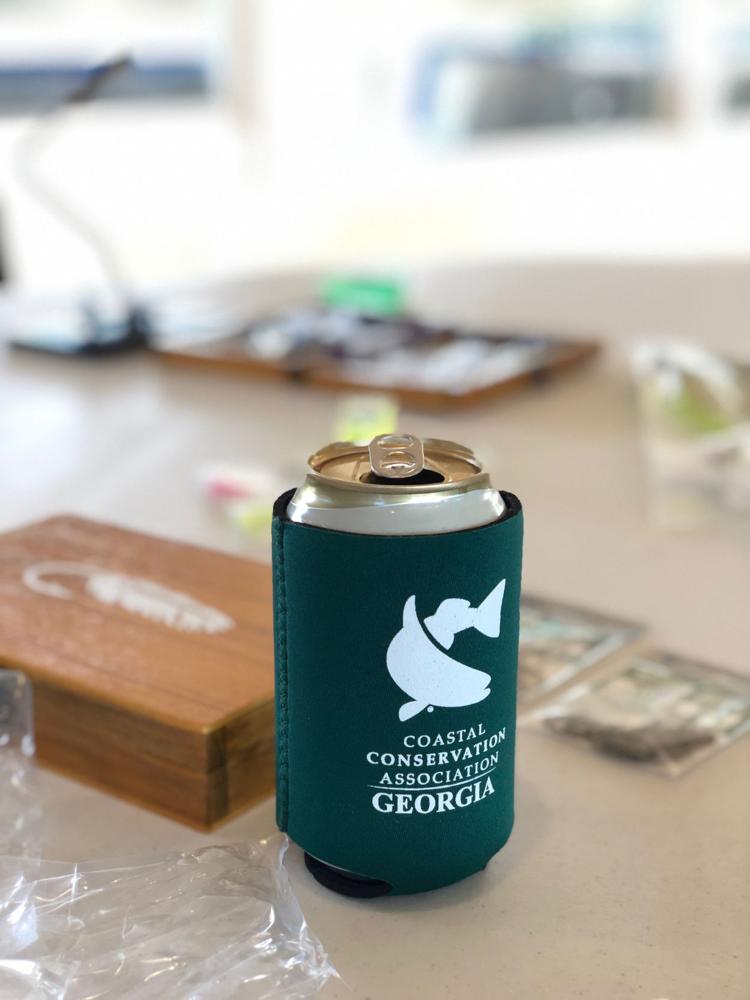 Patrons can experience this historical recurrence at the Village Creek Landing through these fly fishing events, with activities accessible for both children and adults. "It's a great way to grow the fly fishing community," says DiVincent, "and it's bringing generations together to learn from each other about the art of fly fishing."
Village Creek Landing visitors enjoy views of Sea Island, Little St. Simons Island, and other areas of St. Simons Island from the peninsula surrounded by tidal creeks and vast marshland. Combined with the old growth maritime forests, this area is a diverse habitat for birds and marine life that still provides some of the best fishing around. DiVincent and Hein chose this traditional fishing hub as the venue for their events to give the community a chance to learn about professional fly-casting and the local fly patterns that work for our area.
Fly fishing is an angling method using a light-weight lure called an artificial fly that is cast with a fly rod, reel, and specialized weighted line. This technique is significantly different from other forms of casting, due to the delicate weight of the line. Flies are tied to imitate raw food sources of their target species and constructed to represent natural baitfish, invertebrates, or other food organisms.
For a $10 general admission with each session — kids ages 12 and under are admitted for free — attendees will participate in fly rod test casts featuring a different fly rod manufacturer each month. Past fly rod manufacturers include Temple Fork Outfitters and Orvis. A kid's casting area will introduce the basics of this difficult fishing technique, while adults will receive professional fly-casting instructions and demonstrations from local fly tyers.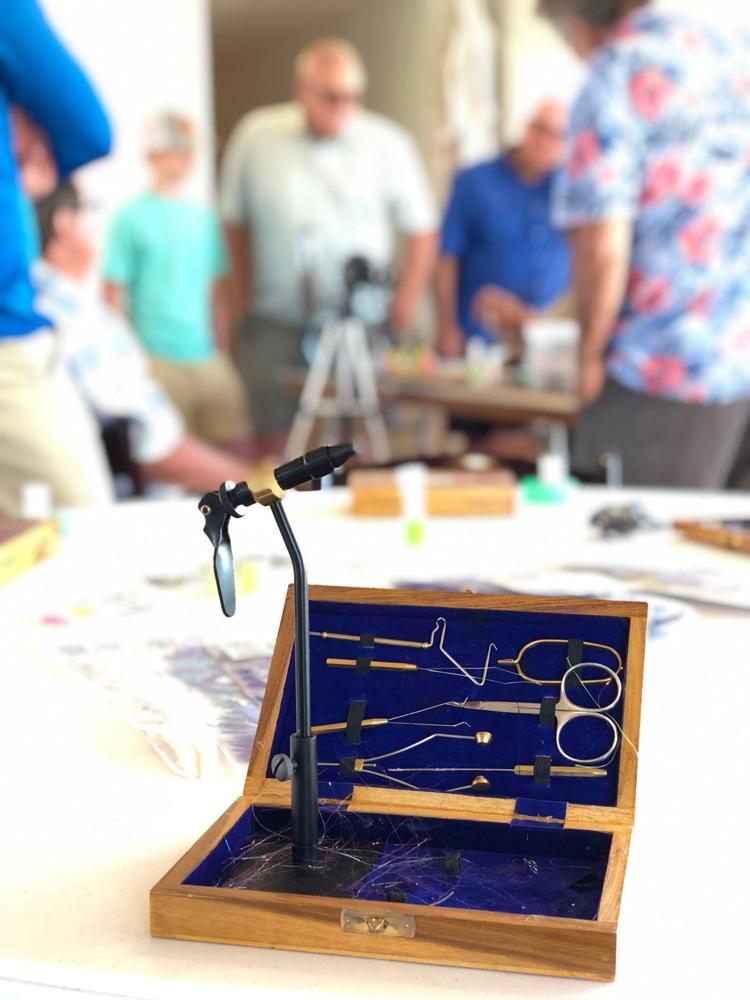 VIP fly tying classes are also available to the first 20 people who register for each month's event. The $50 cost for this exclusive session includes fly tying materials; one beverage; use of On The Fly Outfitters' vises, although it is encouraged to bring your own tying vises if possible; and a $20 credit at On The Fly Outfitters. General admission for the remainder of the event's activities is free with a purchase of the fly tying class.
Sweetwater Brewing Company is featuring a special brew, Guide Beer, during the monthly events. According to the brewery, this lager was made to honor "those men and women who lead us into swift waters, into the shadows of tall trees, and through the unexplored terrain of ourselves." Eleven percent of the profit from this beer goes to former guides who are unable to continue their work due to injury or hardships.
Fly-fishing gear and swag from On The Fly Outfitters will be raffled during the events, and proceeds from the raffle and beer sales will go to the Coastal Conservation Association Georgia Chapter. A division of the national nonprofit organization of more than 100,000 avid recreational fishermen and women devoted to addressing conservation issues both in Georgia and nationwide, the state chapter is made up of five divisions: Atlanta, Bulloch, Sapelo Island, Savannah, and Skidaway. Members acknowledge the need for continued efforts to save the natural resources of our coastal waters from depletion or destruction; and are dedicated to preventing that devastation through programs of education, legislation, and restoration.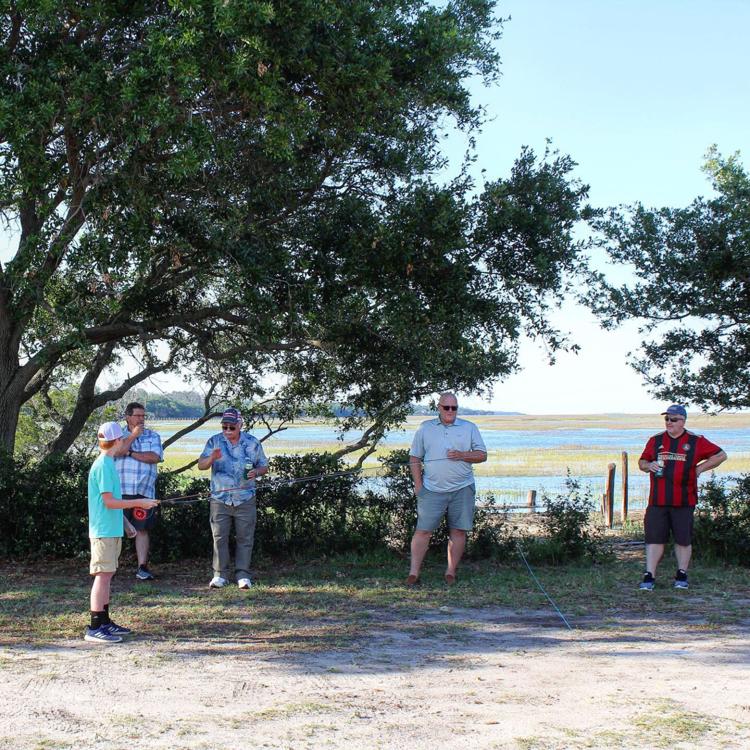 For more information about upcoming "Fly Casting and Fly Tying at Village Creek Landing" events, call On The Fly Outfitters at 912-342-7086; visit the shop at 1501 Newcastle Street in Downtown Brunswick; or visit OnTheFlyOutfitters.com or the  company's Facebook page.
Village Creek Landing is located at 526 South Harrington Road off Frederica Road on St. Simons Island. For more information about this historically significant venue, go to  VillageCreekLanding.com or call 912-506-2301.
Source:  Coastal Illustrated, By Anna Martin