Where the pavement ends, the late afternoon sun throws shadows of live oaks, and tall pines on the old dirt road in front of the pickup truck. Clouds of dust swirl up from under the tailgate and trail behind, hanging in the air like gnats. Cicadas sing. In the pickup bed, bumping along with each rut in the road are a few precious things: (1) an old, well-seasoned cast iron Dutch oven; (2) an even older, even more seasoned cast iron skillet; (3) an old cane fly rod, circa 1950; (4) a slightly rusty Coleman camp stove with many years of faithful service behind it; (5) a small cooler of hoppy beer, iced and sweating; and (6) all of the necessary ingredients for a late-summer, al fresco ­catfish feast.
Catfish are among the most common types of fish in the world, living on every continent except Antarctica, with a dizzying number of species, and subspecies, ranging from critically endangered giant Mekong Catfish of Southeast Asia to the dangerously invasive walking catfish that breathe air, crossing dry land to take over habitats, and crowd out native species. Human civilizations around the globe use catfish as a reliable food source, because they thrive in both fresh and brackish waters — both running and still  — and are particularly suited to aquaculture.
Satilla Ponds, a low-impact catfish farm, is the brainchild of Golden Isles restauranteur and entrepreneur, Zack Gowen. Recently, Zack upped the local farm-to-table game by supplying his popular Georgia Sea Grill with produce from his own local farm, Potlikker Farm. Now, he's applying that same concept to source his own protein for his St. Simons Island location, and the community by farming catfish and crawfish at Satilla Ponds.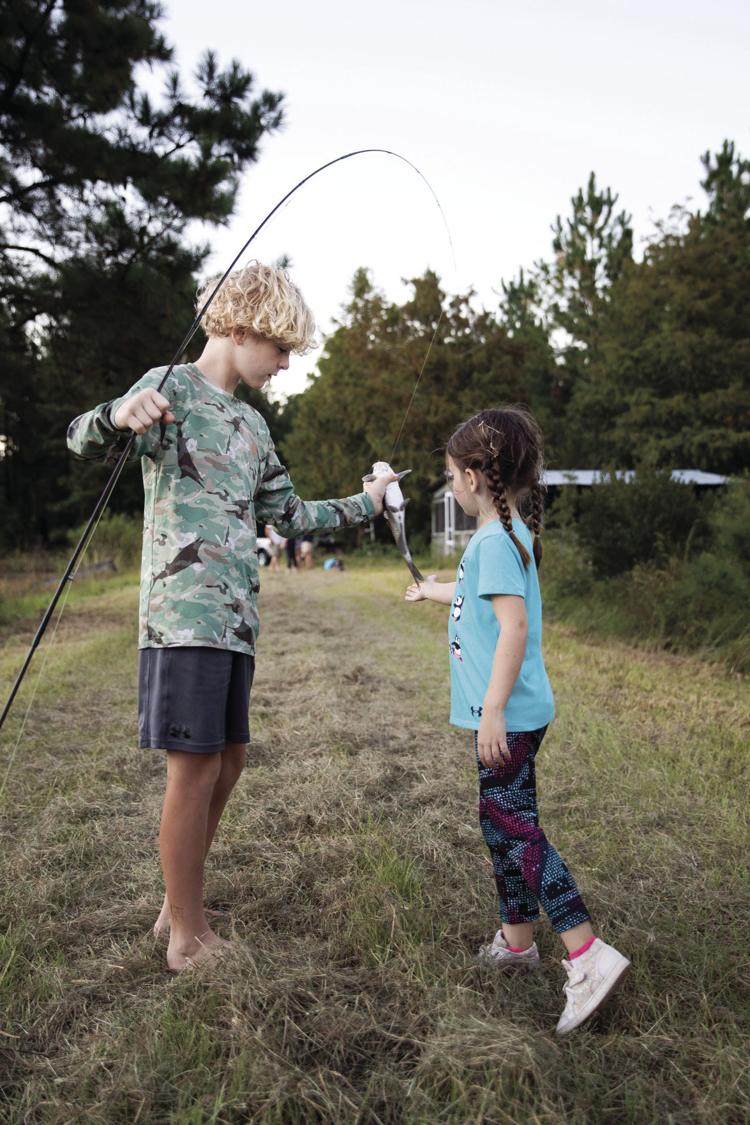 On a lazy Sunday afternoon, as the sun dropped over the pines, a few of us and our families gathered with Zack, his family, and Satilla Ponds manager, Eric Miller, and his family, to wet some lines and sample Satilla Ponds' first harvest. Knowing that smell is a catfish's greatest detector of food, we applied pungent anchovy oil to fish egg fly patterns, and the kids quickly had enough fish for a meal flopping pondside.
After dredging the filets in blue-cornmeal and cooking them on the campstove, we ate them with masa grits as the light faded to dark and the whip-poor-wills struck up  their lonesome melody. This recipe puts a South American twist on the classic Lowcountry fish and grits, inspired by a jungle fishing trip on the Amazon that I took a few years ago, where we fly-fished for peacock bass, payara, piranha, and about a dozen different varieties of … you guessed, it: catfish. Substituting hominy Masa cornmeal, produces a creamy, fresh-corn flavored base that leans more toward polenta than stoneground grits. Blue cornmeal gives a bright, crunchy balance to the velvety texture of the catfish. Garnished with garden peppers, smoky bacon lardons, and Vidalia onions (a nod to the American South roots of the recipe), each bite offers a pleasant foil to cold beer on a steamy late-summer night in coastal Georgia.
Creamy Masa Grits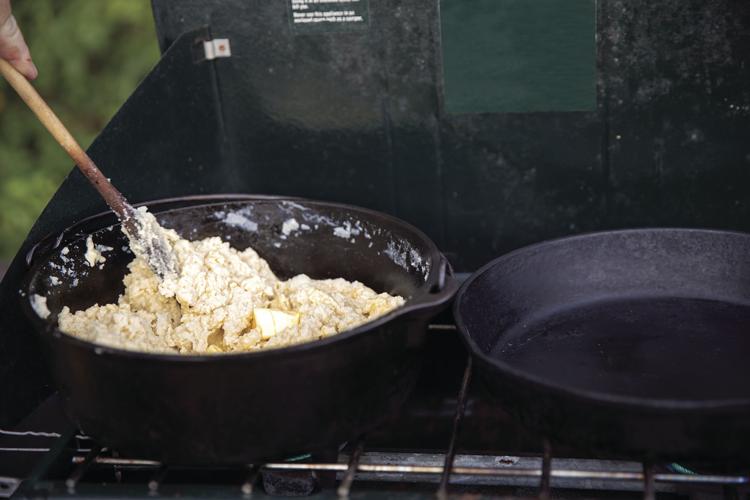 Ingredients:
1 cup plus 3 tablespoons Masa Harina
2 cups fish broth or chicken broth
1 cup half-and-half
2 cups of room temperature water
¼ cup butter
¼ pound of slab smoked bacon or 5 slices thick-cut bacon (Benton's or Wrights or something similar)
1 Vidalia onion, cut into half rings
Salt to taste
White Pepper to taste
Directions:
Heat a cast iron Dutch oven or steel pot over medium flame; while it comes to heat, cut the bacon into lardons of ½  to ¾ inch thick. Brown the bacon lardons until crispy, remove from Dutch oven, and place on paper towel to dry.
Cook onion slices in reserved bacon grease in Dutch oven until they are transparent and have a slight char; then, remove onions to paper towel with lardons and reserve for garnish. Pour masa into bacon grease and cook over medium heat for 1-2 minutes or until all of the bacon grease is absorbed and a light rue forms. Pour broth over rue, stirring constantly until creamy.
Reduce heat to low. Add half and half and butter and stir until creamy. Gently simmer grits uncovered for 20-30 minutes over low heat. If grits become too thick, add room temperature water a few tablespoons and stir until a creamy consistency (grits should be thinner than mashed potatoes but thicker than gravy). Once grits are ready, turn off flame and cover to keep hot while you prepare the catfish.
Catfish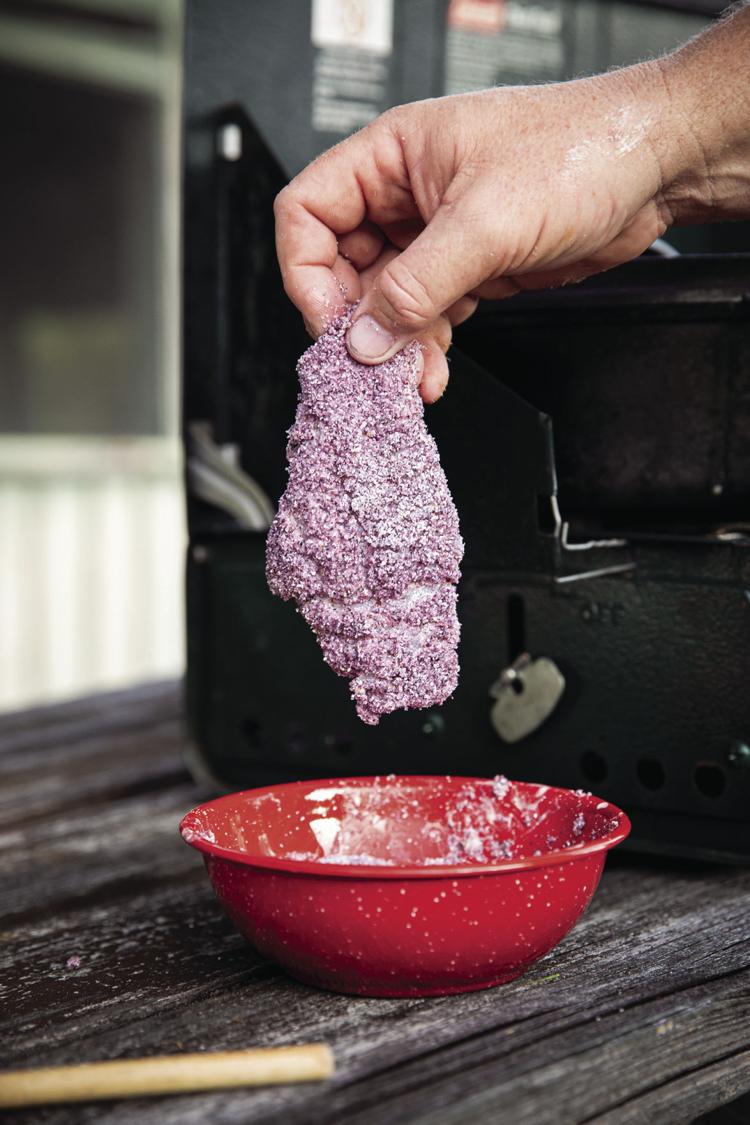 Ingredients:
8 medium boneless catfish filets
2 teaspoons cumin
2 teaspoons salt
1 cup buttermilk
1 tablespoon of Cholula hot sauce
1 cup of avocado oil (or other high heat oil, like peanut oil)
1 scant cup of stoneground blue cornmeal
2 red chili peppers, thinly sliced, seeds removed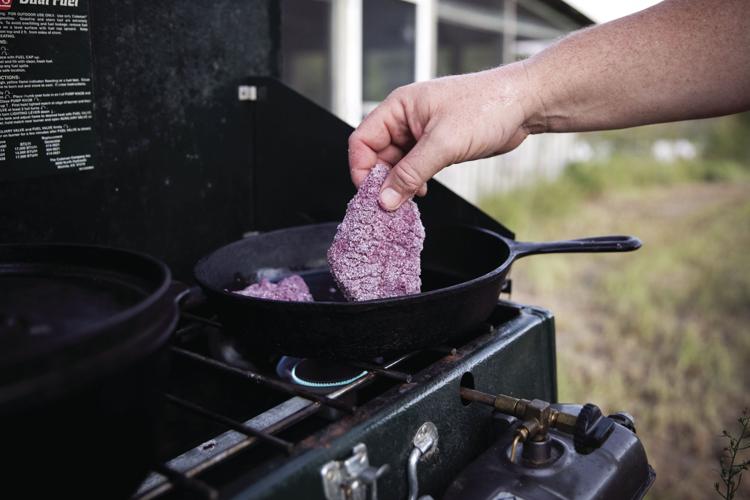 In a small bowl or Ziploc bag, combine buttermilk, cumin, Cholula, and catfish filets. Refrigerate and marinate catfish in buttermilk mixture for 1 to 24 hours.
Thirty minutes to 1 hour prior to cooking, remove catfish from refrigerator and allow filets to come to room temperature.
Heat cast iron skillet over medium-high flame for 3-5 minutes until pan is very hot. While skillet is heating, pour cornmeal into a small shallow bowl. When skillet is hot, pour enough avocado oil to just cover the bottom of skillet and watch the oil to see that it makes slight waves, indicating that the oil is very hot.
One at a time in batches: (a) remove each catfish filet from buttermilk, allowing excess buttermilk to drip away; (b) place filet into cornmeal bowl and coat completely in dry cornmeal; (c) gently, place into hot skillet being careful not to crowd filets. Cook filets without moving them for 3 minutes on one side, then flip and cook for another 2 minutes. Remove from pan and allow to rest for 3 minutes on a wire rack. Add more oil to skillet if necessary to coat skillet between batches.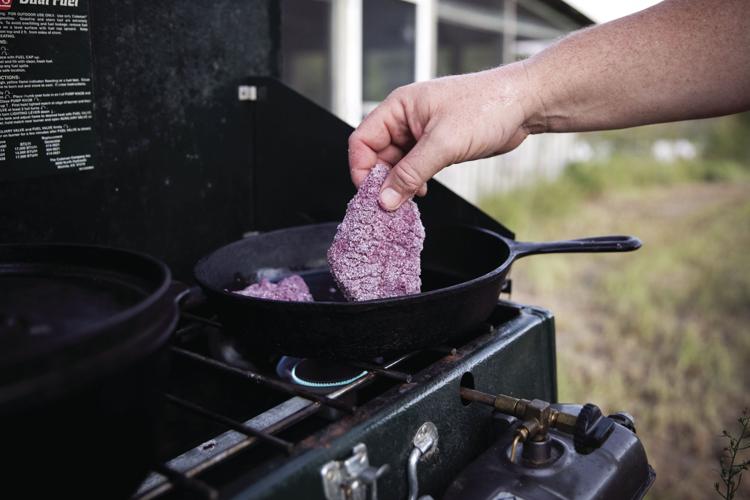 After resting cooked filets, serve on a bed of creamy masa grits and garnish with the bacon lardons, charred onions, cilantro, sliced chilis, and squeeze of lime.